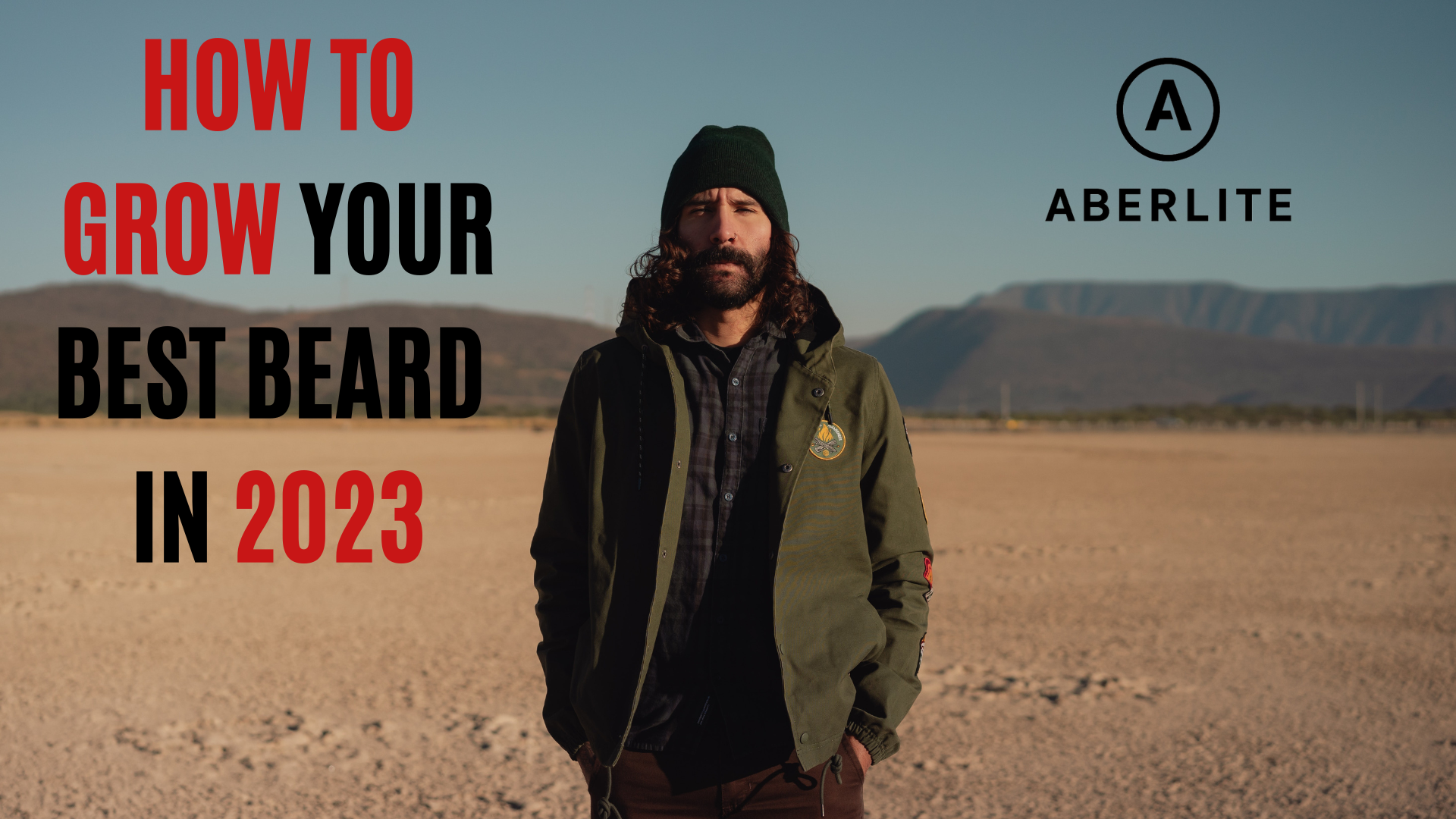 How To Grow Your Best Beard Ever In 2023
The easiest resolution you'll make this year.
We did it, humanity. Another year in the books! Put down 2022 as yet another chunk of 365 days in which we didn't completely blow up the planet and end it all- a commendable achievement, all things considered. But do you think we're just gonna pat ourselves on the back and rest on our laurels? Hell no! 2023 is here, and we're gonna make New Year's Resolutions, damn it! Because that's what people do!
But we're not here to talk about losing weight, kicking bad habits, finally cutting out that one friend who keeps getting you into trouble (that guy is a lot of fun, after all)... 
We're here to talk about beard care, baby! Specifically, we want to help you grow the best beard of your life this year. We're talking full-on, alpha dog, hair of the gods, baby-making beard. And if that sounds a bit over the top to you, well… you're probably right. So let's just talk about how to grow and care for some awesome facial hair, shall we?
Start with the basics.
With any new goal you set for yourself, it's best to start with the obvious, most essential steps toward achieving it. Want to lose weight? Change your diet and exercise. Want a better beard? You better give it the care it needs to thrive. 
Start with hydration- a dry beard gets you nothing in life but dandruff on your favorite shirt. Use beard oil every day, massaging right down to the root to make sure your follicles are getting the moisture they need. Then lock it in with beard balm- a waxier substance that will protect your facial hair from drying out in the cold (essential in these early months) while also providing a light styling hold.
The next essential step? Keeping things clean! While you're out and about conquering your other goals for the year, your beard is sure to get mucked up a bit. That's where a specialized beard shampoo and conditioner come in. Shampoo to gently clean out the grime, conditioner to leave your beard soft and moisturized- the ultimate combo for a better, more touchable (wink, wink) beard.
If you're serious about your beard, these 4 items are basically non-negotiable. Luckily we bundled them up to save you money (you're gonna need them all anyway, right?). Grab The Essential Beard Care Kit from the Aberlite store here.
Level up your game.
Your beard is clean, moisturized, and looking better than ever. But remember what we said about resting on our laurels? Not our style. We're taking your beard to the next level. It's time to talk beard straighteners.
Surely by now, experienced beardsman that you are, you've heard of heat straightening your beard. Maybe you read our blog about the myths surrounding the heat straightening process, or maybe you've just been fed up with an unruly beard and stumbled across the Aberlite Pro as the solution.
Whatever the case may be, we're not going to harp on the insane benefits of heat straightening. A fuller, healthier beard, taming previously wild hairs, the best-looking beard of your life, unlimited sexual partners throwing themselves at you- you know all this! Instead we're going to tell you how we've conveniently bundled our straighteners to make taking your beard to the next level easier and more affordable than ever.
Want everything from The Essentials Kit, plus an Aberlite Pro Beard Straightener and Protectant Spray? Grab The Beard Straightening Starter Kit, it's got everything you need to get you rolling.
Already have the essentials, just need to get straight to straightening? The Heat Protectant Kit has you covered with a Pro straightener and spray.
Doing a little traveling this year? You better be able to take care of that beard on the go. Grab the Beard Travel Kit with an Aberlite Pro Beard Straightener, beard oil, and beard balm- guaranteed to keep you looking your best the world over. 
Achieve peak beard- master level.
This is it- the final step to achieving (and maintaining!) the best beard of your life. If you've followed the advice above, your beard should be looking fuller, healthier, neater, and- let's face it- sexier than ever before. You are on the cusp of greatness. Time to ascend to a higher plane of beard existence…
…by trimming and styling. Ok, that may not be some mind-blowing revelation, but it definitely goes overlooked far too often. Sure, a giant, caveman-like beard is cool for a while. But if you really want to be a stylish modern man, conquering your 2023 goals like the dapper dan you are- you're gonna need to keep that thing under control. And that's where some strategic trimming and shaping comes in.
And as you may have guessed by now… we have a kit for that! Check out the Beard Trimming Kit. It comes with the amazing Aberlite Trim, the most versatile trimmer you'll ever use. It has stainless steel precision blades and multiple attachments to get you the exact look you're going for, whatever it may be- from the perfect stubble to strategically shaping a thick mane. The kit also features the Aberlite Clearshaper and Flexshaper to help you line up the perfect neckline, cheek line, and whatever beard shape you need. To top it all off, the kit also comes with our killer sandalwood brush kit- featuring a sturdy, pocket-sized sandalwood comb, 100% natural boar bristle brush, and precision hair scissors for knocking out those pesky flyaways. That's a kit within a kit!
And if you REALLY want to go all in for 2023 (and why wouldn't you?), you can snag The Ultimate Beard Kit. This behemoth features everything in the kits we've talked about here today, all in one big money-saving bundle. Ya know, just in case spending money wisely is on your New Year's Resolutions list, right under kickass beard.
So there you have it! You are now equipped with the knowledge- the power, really- to get out there and grow the best beard of your life. This is the year of your ultimate beard. This is the year of YOU. Now get after it!