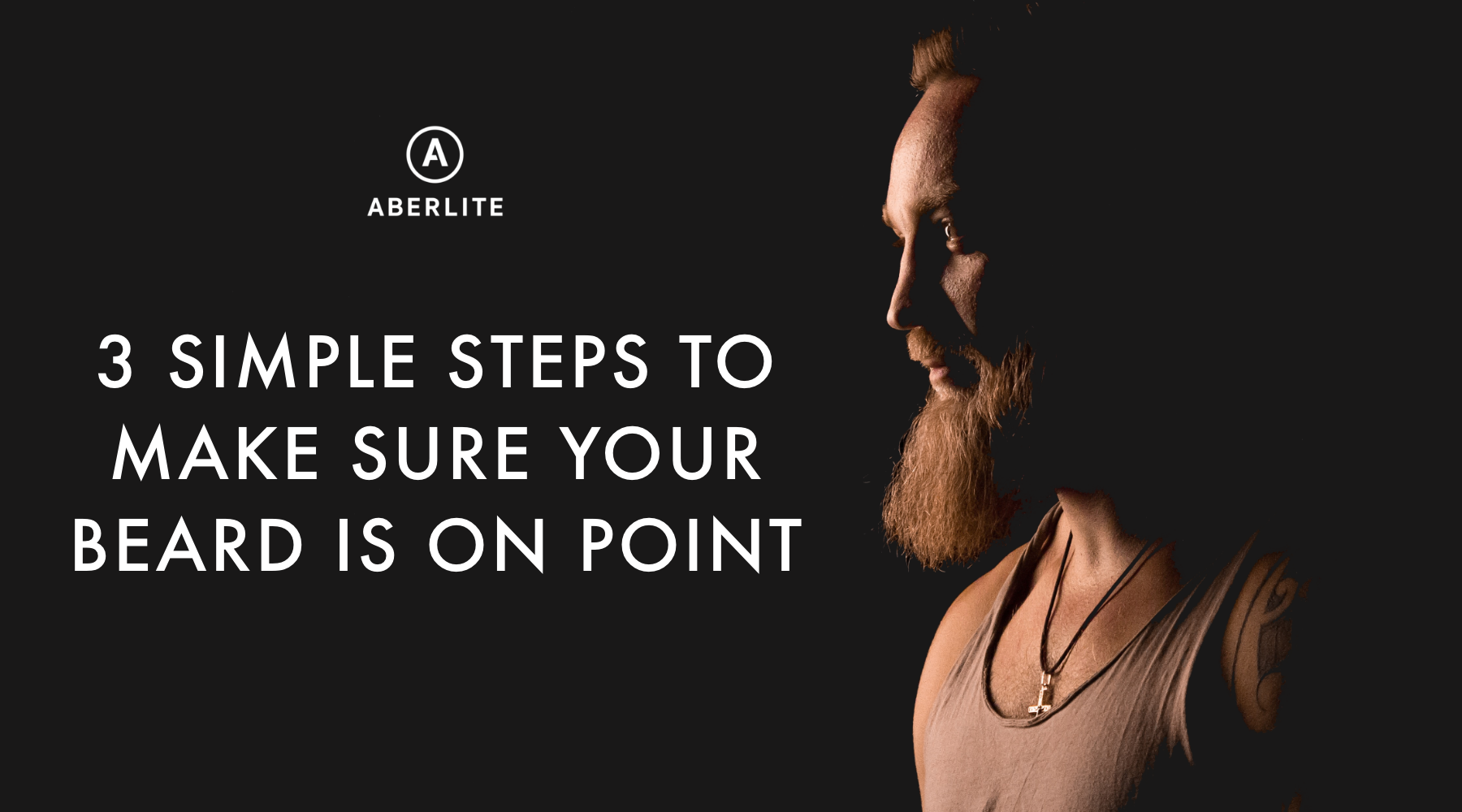 3 Simple Steps to Make Sure Your Beard Is on Point
October 13, 2023
5 minute read
Washing your beard

is the first step in making sure your beard is on point. It keeps debris out of your beard, reduces itchiness and dandruff, and makes it ready to style.
Beard mist

is an excellent way to reduce frizz and hydrate. It's also a great mid-day refresher for your beard and a solid addition to your beard care routine.
Trimming and shaping

your beard is critical to maintaining your look. Trim early and often. A well-kept beard will elevate your look. Experiment with different styles and tools.
Whether you're growing out a long beard or prefer stubble, we encourage you to take care of your facial hair. Having a tidy beard can do wonders for your overall style and attractiveness.
However, taking care of your beard can be difficult. There are many products to consider and different methods of trimming and shaping. Not to mention, you need to learn how to use these products.
Fortunately, regular upkeep of your beard isn't a complicated process. We'll cover 3 simple steps to make sure your beard is on point.
Step 1: Start With a Clean Beard
You need to wash your beard hair just like you wash the hair on your head. It collects dirt, oil, and sweat the same way those luscious locks do (and maybe a few cookie crumbs).
Here are a few key reasons why washing your beard is important:
Cleanliness:

As mentioned, foreign materials like food and dirt will start to gather in your beard. Also, the bacteria can cause your beard to smell poorly. Yuck.

Eliminates itchiness:

Itchiness is a telltale sign of a dirty beard. Washing your beard regularly can help prevent itchiness. Also, itchiness may be a result of something else. Be sure to consult your doctor before using anti-itch products.

No more dandruff:

Dandruff is annoying — and failing to clean your beard properly may cause a buildup of dead skin, dirt, and oil which contribute to dandruff.

Aid in healthy hair growth:

Clean beards tend to grow better. Regular washing helps with healthy hair growth. It also prevents damage such as breakage and split ends.

It looks better:

An attractive, on-point beard can't be dirty. A clean beard elevates your appearance and makes you more confident.
Now that you know why a clean beard is important — let's jump into the how behind beard washing:
Get it wet:

Use lukewarm water to wet your beard. This loosens up pores and any debris that may be trapped. It also makes it easier for beard shampoo to get to the skin underneath.

Use a beard wash:

Apply a beard wash or shampoo

specifically designed for beards

. Use a nickel-sized amount and massage it into your beard and the skin under it. Work it in thoroughly and create a lather.

Rinse:

Once your beard wash has been sitting in for a couple of minutes, rinse it out with warm water. Make sure you remove all the beard wash. If needed, repeat this step.

Condition (optional):

Conditioner

comes in clutch if your beard is dry or coarse. Use a small amount and apply it to your beard as you did with the beard wash. Let it sit for two to three minutes before washing it out.

Dry:

Pat dry your beard with a towel gently. Your wild side may want to vigorously rub your beard — but resist this manly urge! Rubbing your beard harshly with a towel can damage the hair.
A clean, manageable beard is only the first step in making sure your beard is on point. Next, you need to tame that bad boy. Let's show you how.
Step 2: Tame Your Beard
If you're a pro in the beard game, you're probably used to the conventional products that can "tame" your wild mane.
Beard oil, balm, wax, and don't forget your trusty comb and brush.
But what if we told you we've launched a game changer?
Good things come in small packages — and that couldn't ring truer for our new Aberlite Beard Mist.
Our beard mist is designed to serve a specific aspect of beard care. It's a product that gives your beard a quick boost in the middle of a long day.
It does this by providing hydration and a pleasant scent.
Here are a few more key benefits:
Added moisture:

It moisturizes your beard and the skin under it.
Ideal use case: A dry beard any time of day. It's especially helpful in drier weather or seasons like winter.
Anti-frizz:

Keep frizz at bay with our unique water-based oil blend.
Ideal use case: You have naturally frizzy hair. Note that sometimes water can make your beard frizz more.
Freshness:

Say goodbye to odors that accumulate throughout the day.
Ideal use case: You've just had a meal, or you work in an industry that involves odors you don't want getting trapped in your beard.
Softer:

It helps your beard stay soft after a wash and condition session. 
Ideal use case: After drying up and rinsing out beard wash and conditioner in the
shower.
Captivating scents:

Choose from a variety of scents to fit the occasion. If you're already rocking a scent from your beard oil, balm, or butter — enjoy our Pure Essence unscented beard mist. A mist is one of the best things to

revitalize your existing scent

.
Ideal use case: You're on a date and you need a scent she can discover, but one that isn't too loud.
Easy application:

Application is quick and easy with a few sprays. 
Ideal use case: You're low on time and need lasting results.
Extremely compact:

Say goodbye to clunky, obtuse bottles. The

Aberlite beard mist was made to be on the go. Its sleek silhouette fits in your pocket comfortably.
Ideal use case: If you're frequently driving, on the go, or playing sports. Beard mist is an excellent travel companion.
Lightweight:

Beard mist isn't heavy and greasy. If you need moisture without using a heavier product, beard mist is an attractive option.
Ideal use case: You need to use a phone or computer and can't afford greasy hands. Beard oil, balm, or wax are out of the question. 
We don't want you to have any unpleasant surprises. So we thought we'd share what this product is not:
A replacement for beard oil:

Beard oil is the king of beard hydration and health. Oil-based products should have the lion's share of nourishing your beard. Although our beard mist has a small amount of PEG-40 castor oil, it's not enough to take on the job of nourishing that epic mane.

A leave-in conditioner:

Some leave-in formulas can give you a greasy feeling which beard mist doesn't do.

Beard growth spray:

Our beard mist isn't a beard growth spray. If you have patchy spots, or want to grow a healthy beard follow

this guide

.

Styling spray:

Beard mist offers little to no hold. Consider something with wax content like beard butter, balm, or wax for styling. 
Pro tip: Beard mist is an excellent stand-in option for beard oil. It's great when you can't get your hands greasy. Simply spray it on and let it rest. For best results however, gently massage it into the skin under your beard.
Using beard mist is easy. Just follow these steps:
Shake things up:

Shake the bottle to make sure the ingredients are mixed.

Spray:

Hold the bottle 6 to 8 inches from your beard and spray the product onto your beard.

Work it in:

You can use your hands or a comb to work the product into your beard and skin. Use this time to give your beard a general shape if you've just washed it.

Drying:

Let your beard dry completely without touching it. Once dry, you can move on to the styling process.
You're almost ready to rock your clean, styled beard. But there's one more thing you need to remember. As your beard hair grows out — things can get messy quickly.
Let's talk about how to clean things up as your beard grows.
Step 3: Shape Your Beard as It Grows
Trimming and shaping your beard is something you shouldn't skip in your beard maintenance routine.
This is because it'll greatly enhance your attractiveness and make you look put together. Also, unkempt beards are notorious for trapping debris. This is unhygienic and can be an ideal breeding ground for infection and cause irritation.
We comprehensively cover the "how-to" portion of shaping and trimming here and here. If you're already comfortable shaping your beard — we put together a list of ideas that may spice up your style:
Model the masters:

This tried and true principle applies to facial hair too! Take a look at what works for celebrities. You'll notice many details you can replicate on yourself.

A good trimmer

is usually all you need. Play around with beard lengths and contrast. 
Sometimes heavier chin hair with a shorter mustache looks great. You can even try a thicker mustache with stubble like Henry Cavill.
Dyes:

Some guys have a different colored beard compared to their head hair. Dyes are great at matching tones — they can make your beard look more natural. Dyes also do an excellent job of covering up grays. But sometimes grays can give you that much-needed contrast.

Face shape:

Face shape plays a big role in which beard styles work best for you. For example, a round face will benefit from a long, thin beard. This can balance out your facial features and add length to your face.

Line-up:

Knowing where to draw your borders, especially your cheek line and neckline can be challenging. Luckily for you, we've got just the tools for that. The Aberlite

ClearShaper

and

FlexShaper

are some of our best sellers that make trimming your borders a breeze.
Regardless of your ability to grow a thick beard, shaping is something you can do to make sure your beard is on point.
Our Finishing Touches
If you've been slacking on your beard care habits, these three simple steps are a great place to start again.
Washing, taming, and shaping your beard are the bare essentials in our opinion.
Use natural products in the right amount. This will ensure your beard is easy to handle and it'll feel comfortable throughout the day. And remember, don't let it go wild! Trim and shape occasionally to maintain your polished look.
Also, consider products you don't normally use. They can fill a void in your beard care regimen. For example, if you're in a situation where you've already oiled your beard and another application would feel too heavy — try beard mist.
It feels better than no product in your beard but saves you the trouble of putting in more oil.
If you're a beginner or an experienced beardsman, stay tuned. We keep ourselves updated on the latest beard grooming tips, and products. And we want to pass that knowledge on to you so you can take better care of your beard. Sign up for our newsletter at the bottom of this page to learn more.
Until next time, keep that wild side tame!