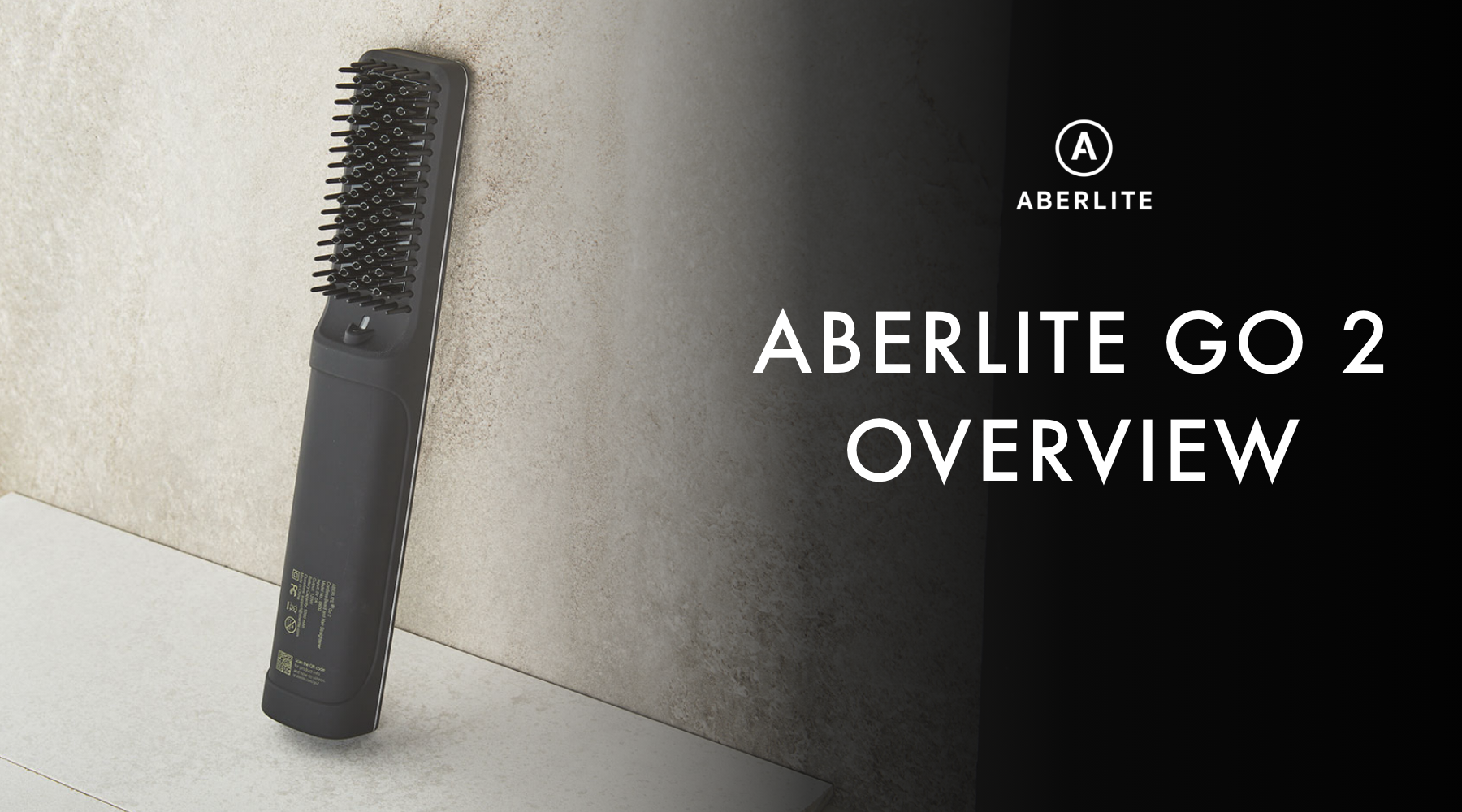 The Aberlite Go 2 is the latest in our line of beard straighteners. It has comparable power to our wired version (Aberlite Pro) and sports the convenience of the previous model (Aberlite Go).
Beard straighteners are a safe way to style your beard. Safety features such as 2 mm anti-scald comb teeth and MCH heating technology will do most of the work. However, consider adding argan oil to your beard if you need to operate the device at a higher temperature. 
More of a visual learner? Check out our beard expert Kaz Veselka in

this video

. He covers the benefits and features of the new Aberlite Go 2.
Our patented best-in-class beard straightener just got an upgrade…
We wanted to capture the power and efficiency of our flagship best-seller the Aberlite Pro — but make a travel-friendly version.
Thus, the Aberlite Go was born.
You loved the Aberlite Go but also had some concerns. We took your feedback into account and made the next generation of our flagship product.
The Aberlite Pro was a game-changer for so many guys around the world. It's been straightening beards and making men look their best.
And things are about to get a lot better.
The Go 2 in all its glory.
The Go 2 combines the power of the Pro with the convenience of the Go for the best of both worlds.

In terms of its aesthetic design, it takes after the Go. However, its gold-standard features resemble the Pro.

Here's what you can expect with the new Go 2:
Cordless:

Your beard shouldn't be tangled. And neither should your beard straightener. The Go 2 is cordless — no more fussing around a cord while you fix your beard. It also comes with a USB-C charger so you can charge on the go.

40% quicker heating:

Advanced MCH heating technology heats the brush faster than the Go. However, it's still a little slower than the Pro.

26% more power:

The Pro features four columns of heating elements, while the Go 2 has five columns. This means more beard coverage with each stroke. 26% more heating elements make for a more powerful device.

2x battery life:

A 4-cell 5000 mAh Li-ion battery provides

double

the battery life compared to the Go. Expect 30-60 minutes of use before needing to charge it again. That's a 100% increase over the Go.

Charging dock:

The Go 2 comes with a charging dock to make charging easier. This is something the Pro and Go lacked.

All this sounds amazing. But you may still be wondering:
Is the Aberlite Go 2 the right straightener for me?

The Go 2 is suitable for all types of facial hair. The tightly spaced bristles give you a superior hold on your facial hair allowing safe, pain-free styling. Negative ion conditioning detangles coarse hair quickly so you can get back to doing what you're best at — looking great.

Have a look at this page. Click on "Find the Right Aberlite Straightener for You." It compares the specs of our straighteners to ensure you purchase what you need. The Go 2 user manual can also be found here. It'll tell you everything you need to know to make sure the Go 2 is the right fit for you.
How to Use the Aberlite Go 2
Using the Aberlite Go 2 is simple.
Turn it on by holding the on button for three seconds.
Travel-safety features to keep you on the go.
This is a travel-safety feature. It prevents the device from accidentally turning on inside your luggage.

Hold the button again for three seconds to turn it off.

You can tap the power button when it's on to cycle through different temperatures. There are eight heat settings in total.
But which heat setting is right for you?

If you have finer, thinner hair, use a temperature between 300°-340°F.

Coarser hair will need more heat. Consider 360°-400°F.

Start at a low temperature and slowly work your way up.
Heat setting guide included with the Go 2
Is a Heated Brush Safe on My Face?
As with all our products, there are many features that ensure your comfort and safety:
2mm anti-scald comb teeth

: These let the brush get close to your roots without causing skin or hair damage.

MCH heating technology:

Allows the heat output to be consistent. Cheaper heat brushes that lack proper insulation will fluctuate in temperature. This can cause damage to your hair.

Negative ion indicator light:

The indicator not only tells you when the device is on — but it also lets you know it's releasing

negative ions

. This negates static electricity and prevents your hair from standing up which can get annoying during styling.

Heat protectant spray:

This one isn't a feature of the device. It's sold separately but it deserves a mention in the safety section.

Argan oil

has a smoking point of 400°F. If you're using a temperature below 300°F you don't need to use it. For anything above this, we recommend using a few drops and rubbing them on the surface and into the roots of your beard hair.
Kaz showing the negative ion indicator light
Want to learn the nuances of styling your beard with the Go 2?
We teach you all that and more in this video. You can also check out this post on our blog page.